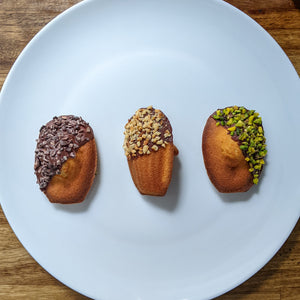 Product Description: 
Madeleine is a French traditional sponge cake that I particularly love and reminds me of my grandmother Marcelle. I have always had a sweet tooth and my grandmother always had something sweet for me at home.   
You can order a bag of Madeleine for your dessert or a box to share with your colleagues at the office. 
Ingredients:
Butter (Milk), Eggs, Milk, Flour (Wheat), Sugar, Baking Powder. Coated with Chocolate (Soya), Cocoa Nibs and Hazelnuts or Pistachio (Tree Nuts)
Allergy advice:
For allergens, see ingredients in bold. Please note that the food is prepared in a kitchen where all allergens are being handled. 
Heating Recommendations: 
This dessert does not required to be heated before consumption. 
Storage Recommendations: 
Can be stored at room temperature.